San Juan County, Utah will be in the direct path of the Annular Solar Eclipse on Saturday, October 14th, 2023!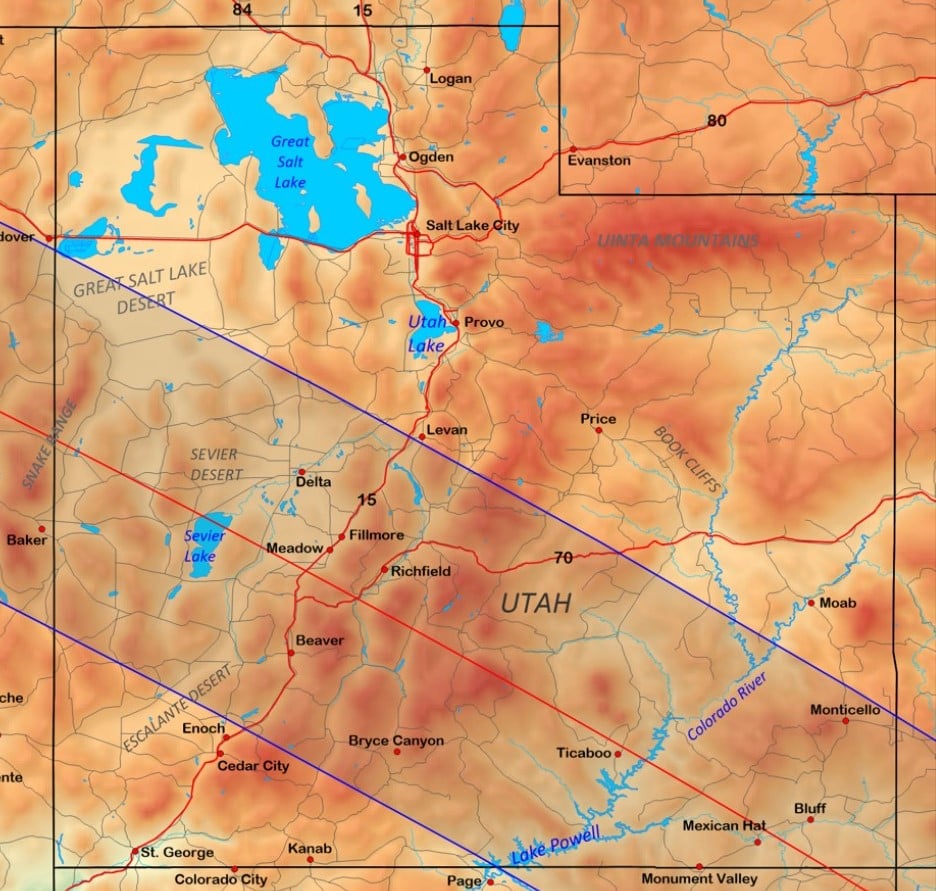 The town of Mexican Hat, UT, and Goosenecks State Park will be in the direct path of annularity, and the duration of maximum eclipse will be approximately 4 minutes 46 seconds.
Duration of maximum eclipse in neighboring towns:
Bluff, UT: 4 min 41 sec
Monument Valley, UT: 4 min 24 sec
Blanding, UT: 4 min 1 sec
Monticello, UT: 2 min 42 sec
What is the difference between an Annular Solar Eclipse and a Total Solar Eclipse?

A Total Solar Eclipse occurs when the moon passes between the Sun and Earth and completely blocks out the sun. An Annular Solar Eclipse occurs when the moon passes between the Sun and Earth, and blocks out all but an outer ring of the Sun, leaving the Sun's visible outer edges to form a "ring of fire" or annulus around the Moon.
Eclipse Events in Southeastern Utah
Goosenecks State Park will have a number of telescopes, solar binoculars, food booths, informational booths hosted by the BLM, USFS, NPS, and much more. San Juan County Economic Development & Visitor Services will be handing out free eclipse glasses and visitor information.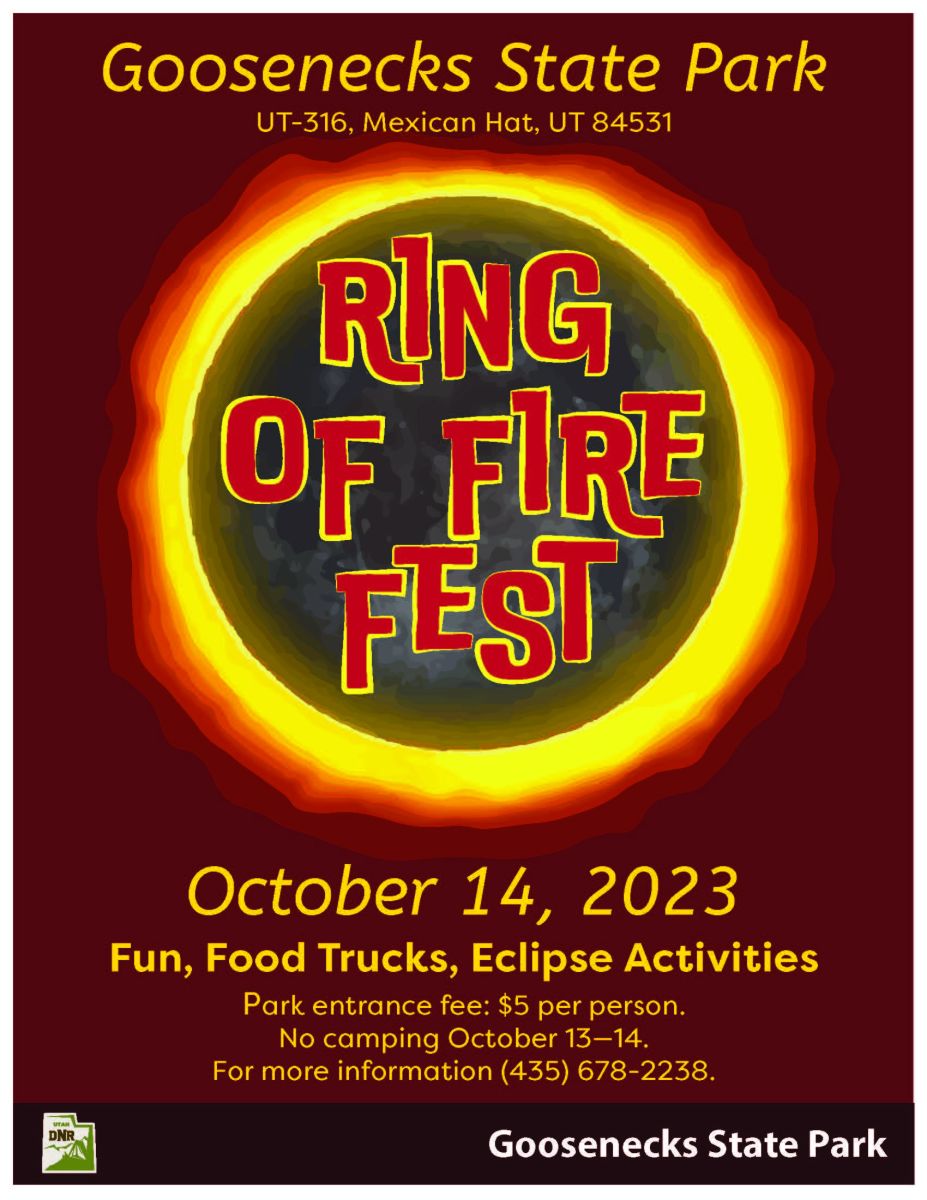 2023 Eclipse Festival- Canyon Country Discovery Center- Monticello, UT October 13 & 14, 2023
Canyon Country Discovery Center is offering weekend packages, including viewing the eclipse from their campus. Additional activities will include a concert, Dark Sky Discovery events, meals, and afternoon activities around Southeastern Utah.
Bears Ears Education Center will be hosting Star Parties on October 13th & 14th, as well as a special presentation on "Multicultural Perspectives of Solar Eclipses" with Dr. Liz MacDonald, who works for NASA's Goddard Space Flight Center on October 13th.
The city of Blanding will be hosting a public eclipse viewing event from 8am-2pm the day of the eclipse. There will be food & craft booths, free public restrooms, and more.
A Private All-Inclusive Solar Eclipse and New Moon Watch Party. Glamping, converted school bus bar, professional chef starlit dinner, astronomy tour, cocktails and more.
San Juan County, UT will provide peak viewing of the 'Ring of Fire' eclipse in October. Come join us on a side by side adventure to a remote location with a premium view of this spectacular event.
Guest speakers; Dr. Shannon Brooks & Kalvina Hanely. Free Solar Glasses available. (Limited quantity)
San Juan County Businesses Selling Eclipse-Related Goods:
Yak's Cafe- San Juan County/Bears Ears National Monument Eclipse Shirts
Information for visiting our communities during the eclipse:
Bears Ears Partnership- Bluff, UT
Lodging & Camping
As of April 2023, local lodging properties are reporting 95%- 100% occupancy for the weekend of the eclipse, so if you're planning to come for the eclipse, be sure to book your lodging as soon as possible!
Make your lodging reservation as early as possible. Local hotels are filling up quickly!
Allow ample time the morning of the eclipse to get to the place you're planning to watch it from. We are expecting a large influx of visitors to the area for the eclipse, so don't wait to the last minute to try to get the place you'd like to observe the eclipse from.
Be sure to bring plenty of drinking water, snacks, sunscreen, and anything else you think you may need for the day. Depending on where you plan to observe the eclipse from, there may be delays leaving area parks, monuments, viewpoints, etc.
Be aware that aside from our communities, cell service is limited throughout San Juan County. We do not recommend relying solely on cell phones for navigation. If you need a paper map, please stop by one of our local visitor centers to pick one up.

Monticello Visitor Center, 216 S Main St, Monticello, UT 84535
Blanding Visitor Center, 12 N Grayson Pkwy, Blanding, UT 84511
Bluff Fort, 550 Black Locust Ave, Bluff, UT 84512
Bears Ears Education Center, 567 W Main St, Bluff, UT 84512
Monticello BLM Office, 365 N Main St, Monticello, UT 84535
We're excited that you've selected San Juan County to observe the eclipse from. While you're here, please be respectful of our local landscapes, wildlife, archaeological resources, residents & cultures. Here are a few videos that will help you recreate responsibly during your visit to Utah's Canyon Country: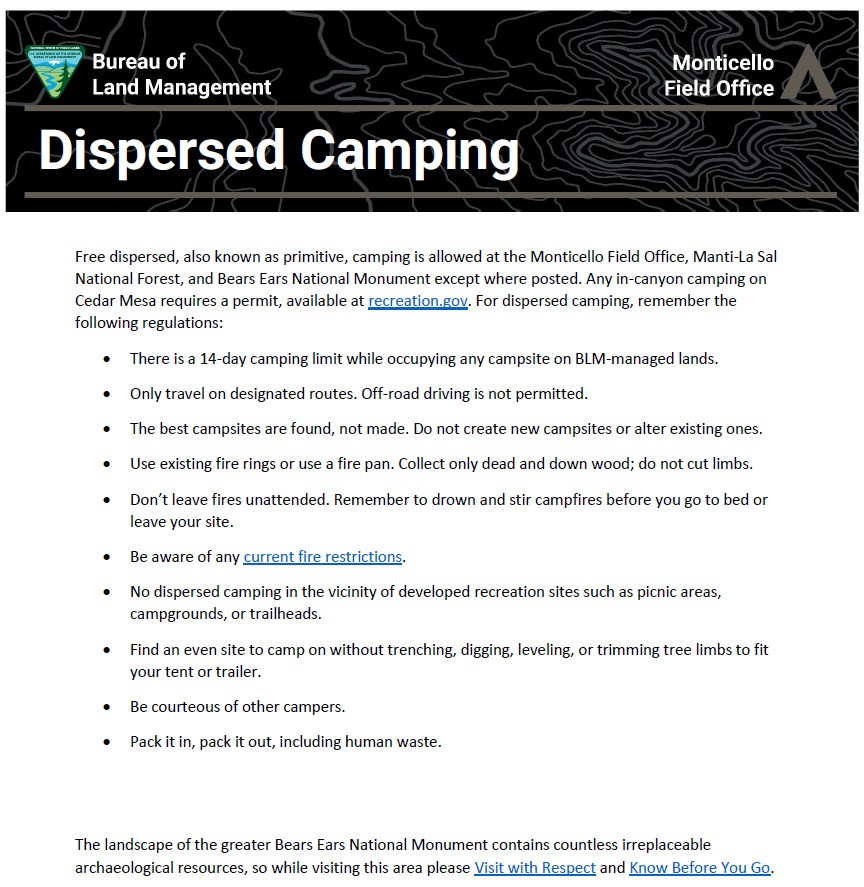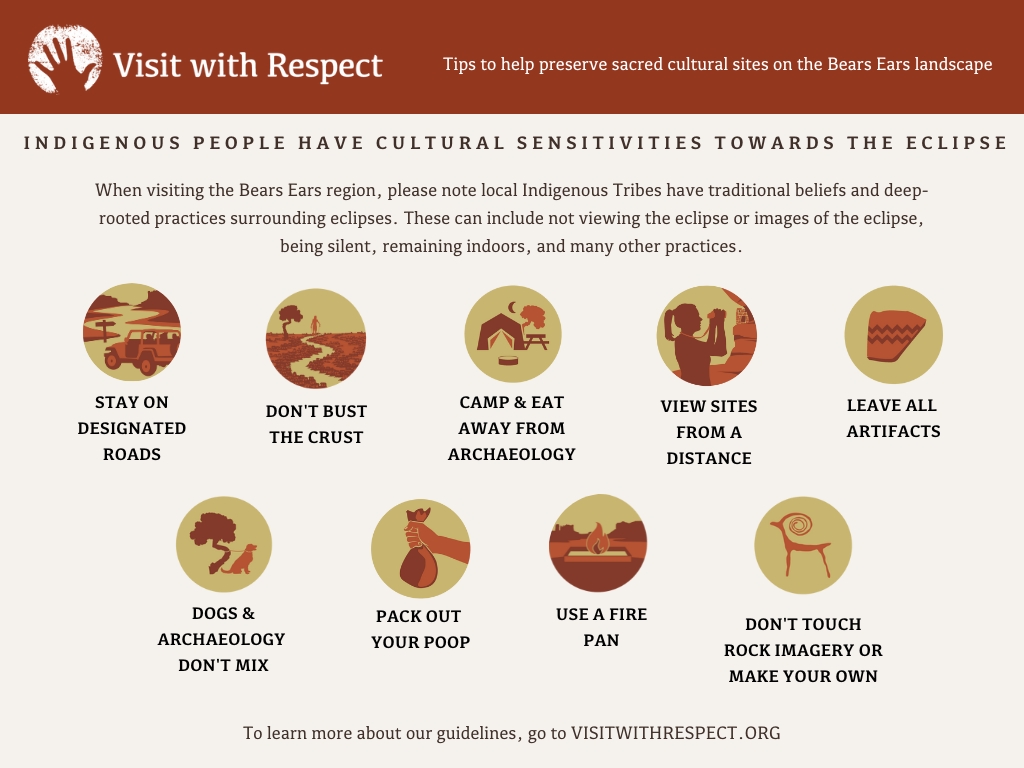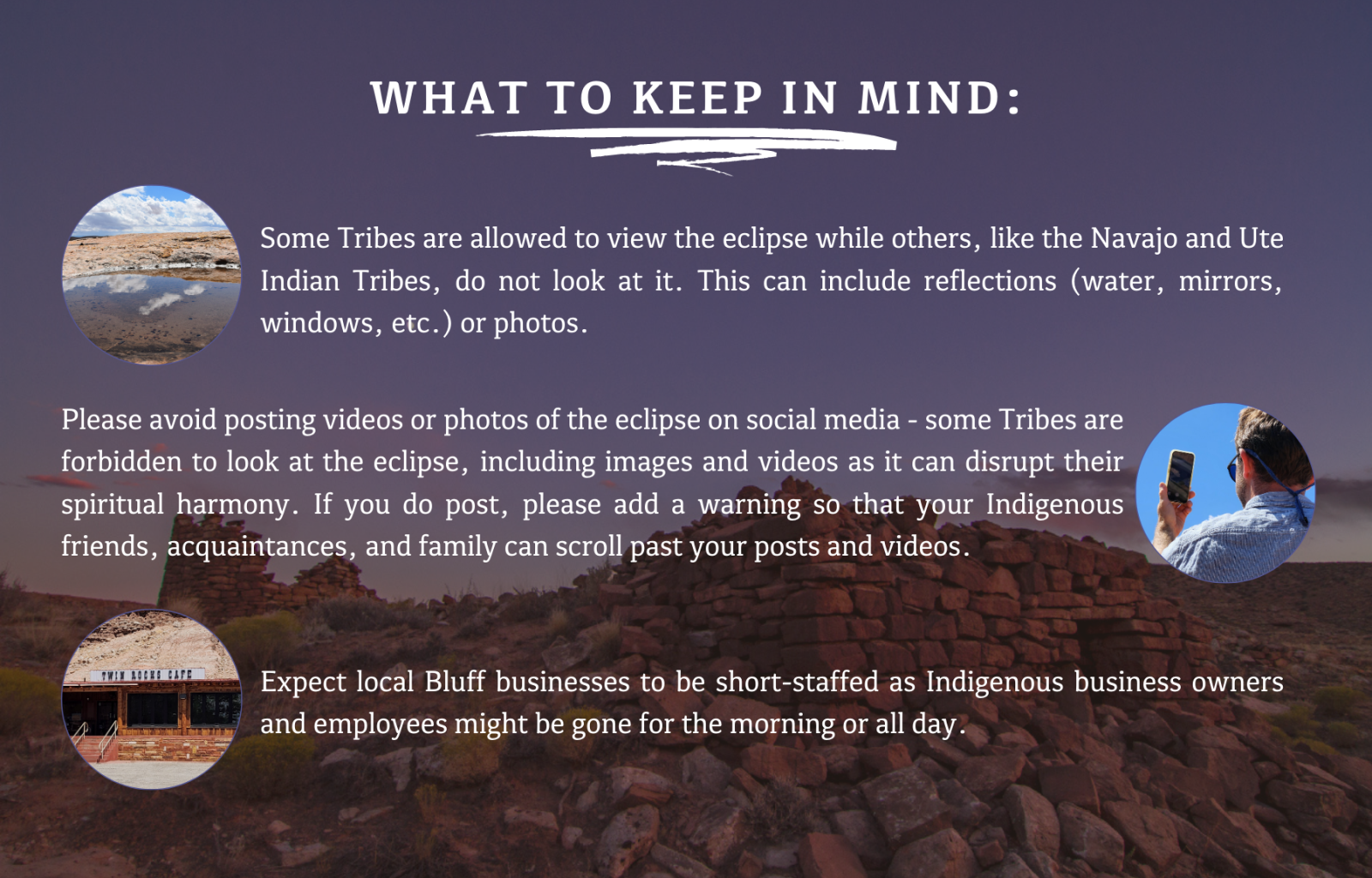 The following video provides more information on Indigenous Tribes' beliefs and practices regarding eclipses:
For more information on this eclipse and future eclipses, visit: NationalEclipse.com